ACRN U. Research Center for Social Enterprise
in collaboration with our partners
University of Jyväskylä, Finland
University of St. Gallen, CH
Xavier Institute of Management, India
University of Applied Sciences Upper, Austria
London South Bank University
Journal of Social Entrepreneurship, Oxford
Journal of Sustainable Finance and Investment, London
Current Research Groups:
+ Identifying Archetypes of CF Platforms: a Structured Multidimensional Inquiry into more than 600 CF Platforms

+ Behavioural Finance Aspects in Investors' Preferences in Crowdfunding: Schleifer, Thaler and Schiller revisited
… how herding and other psychological effects influence rational decision making

+ An International Comparison of Legal Aspects of Crowdfunding: Creating a Framework for Policy Makers

+ The Emancipation of the Crowd: Examining Social Entrepreneurship as Social Movement and Quasi Religion
Info on our Spring School on Social Entrepreneurship in Vienna, at Vienna Business and Economics U. (WU Wien)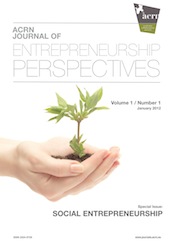 SPECIAL JOURNAL ISSUE 2011 - SOCIAL ENTREPRENEURSHIP
Forthcoming publications 2013

Crowdfunding Model for Social Ventures in Routledge Venture Capital Journal



New publications by the ACRN Research Center for Social Enterprise 2011/2012

New Book -
Social Entrepreneurship Perspectives: Triangulated Approaches to Hybridity


Social Enterprise in Austria in the Routledge/ Oxford Journal of Social Entrepreneurship
Research on Methodology in Social Entrepreneurship Literature (EMES)
Opportunity Recognition in Social Entrepreneurship: A thematic Meta Analysis (Journal of Entrepreneurship)
INAS Konferenz Soziale Innovation durch Social Entrepreneurship
Thesis: Social Entrepreneurship: Triangulated Approaches to Hybridity
New Master Thesis on Social Entrepreneurs and Business Angels
Current research by our students:
Social Entrepreneurship and Religion: cultural, institutional and discursive aspects (ISTR conference)
http://www.istr.org/conference/siena/index.htm
Semipermeable Interfaces in Social Entrepreneurship Research: Building bridges to CSR, sustainable and indigenous entrepreneurship discourse
Social Entrepreneurship : a meaningful job alternative? A case study on the global Hub network
The Informal Economy at the Bottom of the Pyramid
Overcoming Hybridity in Social Entrepreneurship through the Application of Schema Theory. ISIRC Birmingham, UK
Conferences and Doctoral Schools


Our annual doctoral schools on Social Entrepreneurship research have gained international reputation.
This year it was held in April in Vienna at the Vienna University of Economics and Business with selected 20 participants from 12 nations.
It was a very inspiring meeting and a great exchange of ideas. The next one will be in April 2013.
Also our conferences are gaining momentum, 2011 we had over 80 participants from all nations, the next one will be held in Cambridge UK in 2013.



Other Activities:


Book contribution and reviewers to the :
Social and Sustainable Entrepreneurship (Advances in Entrepreneurship, Firm Emergence and Growth):
13 considers the timely issues of social and sustainable entrepreneurship. The chapters consider in depth the issues, problems, contexts, and processes that make entrepreneurial enterprises more social and/or sustainable. Top researchers from a diverse set of perspectives have contributed their latest research on a variety of topics such as the role of entrepreneurial bricolage in generating innovations in a social context and emerging themes in social entrepreneurship education.
Editorial Services for Routledge Journal of Social Entrepreneurship and the Journal of Sustainable Finance and Investment